It's been 6 weeks since the last filming day with Ms Aleera.
(Well, it had been at the time I wrote this 😉 )
It's nice in the sense that it's not too long, but still as a slight gap of wondering if things can be just picked up where they were left.
The link to the last blog is here if you missed it, but for a tl;dr we had a great fun time with a kind of 'silly slave' predicament theme. I think we play on that a little looser this time, but, I dunno…
I sometimes joke that I'm the architect of my own destruction at times.
See, I do think I have lots of great ideas. Many of which are fairly sadistic – but the problem is, when I'm asked to contribute these ideas… it's me who has to go through with them.
So the predicament I find myself in is a bit "Yeah, just tie me to the cross and cane my feet… if you jack my leg up it'll hold it in place…"
And that was clip 1. Of 12.
I joke, I mean, there was a mix of ideas and activities W/we did, all of which I enjoyed more than my own idea.
Note to self : stop having ideas.
We're with cameraperson Eliza Grey today, she is back and is really lovely to be around, she's got some great ideas on angling and focusing and this should help get a lot out of it. The clips last time looked great, this time I reckon they'll be even better.
So, where does our adventure take us this time… well, I mentioned the bastinado (which I often conveniently type as Bastardnado – cos it stings like a bastard)… this is followed with some trampling, I seem to have filmed a lot of trampling, but this is the first time with boots that are more flat than heeled on camera.
A bit wax play, which I've not done in quite a while and is my first time on camera – I enjoyed this immensely (I think footage *may* give that away) although didn't enjoy the clean up at all. Gosh, wax is a bitch.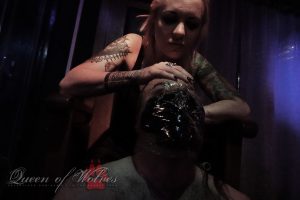 After a nice cold shower (not a deliberate part of play, it was just cold… maybe we should have filmed my attempts of getting clean, there's a market for everything…) I'm treat to some of my favourites, boot worship, foot worship and then some creative Muffin Eating. But then there's a return to the pain. These broken up by some forced sock smelling.
A double set of ballbusting, first round barefoot (which I've never done on camera) and second round with boots (which I have done on camera, but not seen the clips for) reminds me, that, well, it's been a while since I did ballbusting.
Back to BDSM basics with a flogging and whipping scene, before I'm strung up for some caning.
I didn't count the cane strokes, I don't think it's near the record.
Finally… we end as we began with another of my daft suggestions, I'm left strung up and helpless against some nipple torture which lasts a "Mistress Minute"
Phew. I feel I've rushed this a bit.
Which I don't feel is very fair.
It distracts a lot from the crux of the subject. It was a very enjoyable afternoon where I was privileged to be helping out someone I admire. We were doing a good mixture of activities including many favourites. Whilst no first times today, certainly some first times on camera.
There were some pure memorable moments, from moments of "was this really a good idea?!" to of course the majesty within the trampling.
There's a point in trampling – and it's very specific – it involves one foot (whether bare, in shoes, heels, boots, whatever) in the upper part of your chest. The other, wherever – I mean, it can be doing something like cock crushing or it can be next to the other one, or being used for balance – whatever : but, it pins you down and there's no getting up and you are forced to gaze upwards as someone looks down to you – and I think even the shortest of person (not that Ms Aleera is short – I don't know, I've not really thought about it… I don't stand there with a tape measure, measuring Dommes….) can seem 50 foot tall, towering above you.
I mean, I concluded recently trampling isn't always my favourite thing, I just do it a lot particularly on film. But, when I think of some of my favourite trampling experiences; I've had that moment of awe at that point.
So, I think what I like about trampling is being able to look up at how powerful someone is above me. So, yes, days like today are definitely amongst my favourites.
It's good to look up to someone you admire.
It was also fun to do some ropes as well. Believe it or not it's been nearly a year since I last did any form of rope bondage. It does take time to set up, but it'll be worth it if it looks good.
The atmosphere throughout was very upbeat and relaxed, which I liked. Although it did feel a little darker as we did the CP scenes towards the end, lots of fun, joking, some naked air-guitaring to Placebo (and the shame of having to turn it off during filming, I'm sure Mr Molko wouldn't have minded….I mean, he has been to Torture Garden, allegedly…) – and, a good mixture of activities.
In answer to the original point about "can we pick up where we left off?". I think the answer to that is a resounding "yes". We know each other a little better and can sail through bits and pieces. Perhaps in some ways not continuing the silly slave thing was a good idea. It could have got tiring 12 times – but, there were some fun ideas bouncing around.
It's been a good day – and I'm certainly excited to see the results.
Article will be updated as clip links become available.
Links
Ms Aleera – Website // Twitter // Clip Store
Clips
Worship My Boots for a Tasty Reward