Ms Aleera.
Based near London, She is the Queen of the Wolves.
She has worked with many great people – as part of Domina Parties but also through events like the Domme Retreats. She also has her own wolf pack.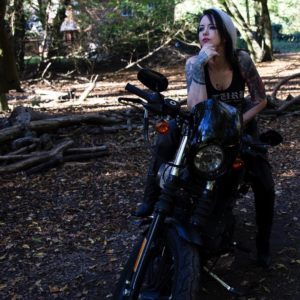 HOW DID YOU FIRST HEAR ABOUT MS ALEERA?
It was a bit bad – but it was through a Domina Parties email and there was a picture and I though "ooh, who is this – she is pretty" and so I started research from there.
WHAT WERE YOUR FIRST THOUGHTS OF HER AT THIS TIME?
Well, looks aside. I felt she was quite different, more unique, from other Mistresses. I think I knew then I wanted to meet her – but it did help that she was involved in events that were linked with other people I trusted and also had filmed with other ladies I trusted.
HOW DID YOU FIRST MEET?
I think there's more people I first met filming than any other method – and yes, she advertised some filming dates and I was very quick to apply.
WHAT WERE YOUR FIRST IMPRESSIONS OF MS ALEERA?
Well, I'd been really nervous in the build up. But, a few days prior there was an email we might have to cancel as the camera lady was no longer available – what did I want to do. I said I was happy to go ahead if she was especially as I had trains booked – so we did.
So, it gave me a little feeling that she wanted to film with me and so that helped put me at ease.
Also that actually, swapping messages on the day and meeting her – just so easy to get on with which was really important with it just being the two of us.
WHAT WAS THE MOST MEMORABLE MOMENT OF YOUR FIRST MEETING?
Might seem a daft thing but during the last clip, towards the end – it was a CP clip but it was quite lighthearted so she was talking about frying eggs on my bum. At that time I'd often only speak when spoken to in filming but I decided to chime in, "Can we have some bacon as well?" and she was like, "Of course we can" and I felt really clever.
WHAT DO YOU ADMIRE MOST ABOUT MS ALEERA?
She's not the only person to fit this category – but – that she does her own thing and it's a very "this is who I am and what I do – and I aint gonna be anyone else for anyone else" type of attitude which I admire.
YOU'VE FILMED TOGETHER, WHAT WAS YOUR FAVOURITE CLIP YOU'VE DONE TOGETHER?
I think having seen it back – there was the clip with the muffin : but, what she did was really a good idea and three different clips were edited into one longer one – which goes from boot worship, to foot worship to the muffin game and it's so linear.
Confession : part of the muffin game was my idea and I nicked it from Wrestling.
WHAT IS MS ALEERA LIKE IN SESSION?
She keeps things light-hearted. That doesn't mean she won't hurt you – or that you won't regret volunteering for nipple torture… no… but… it's hard to resist the smile and laugh.
WHAT IS YOUR OVERALL BEST MEMORY OF MS ALEERA?
Air guitaring round the dungeon to Placebo. Kink is serious business.
IF YOU COULD SAY ONE THING TO HER RIGHT NOW WHAT WOULD IT BE?
Just it's a shame we've not been able to hang out more. I hope there's opportunities for us both to rectify that. Oh, and cheers for the music recommendation.
As is traditional, I also get some words from Ms Aleera.
WHAT WERE YOUR FIRST IMPRESSIONS OF EYEMBLACKSHEEP?
A little quiet at first but totally polite and has a great sense of humour. I love that he takes the time to really listen to what is being said and take in all the information before acting or answering.
WHAT IS YOUR FAVOURITE MEMORY OF EYEMBLACKSHEEP?
Air GUITAR between filming FOR SURE!!!!
YOU HAVE FILMED TOGETHER, WHAT IS YOUR FAVOURITE CLIP YOU HAVE DONE TOGETHER?
I really loved the foot worship with the cupcake, we had such a laugh that day and that was just perfect fun!
WHAT IS EYEMBLACKSHEEP LIKE IN SESSION?
In a filming session he's so awesome! So open to try new things and really does apply himself to making sure the fun is had on all ends.
WHAT IS YOUR FAVOURITE THING ABOUT EYEMBLACKSHEEP?
Hes such a genuine guy, truly my favourite filming bottom so far… and that is saying something because I film with many really amazing people…
IF YOU COULD ASK EYEMBLACKSHEEP ANY QUESTION, WHAT WOULD IT BE?
What is your ultimate fetish scenario?
My response
I did actually discuss this privately with Ms Aleera and after a few message exchanges we're talking about doing it, as a clip… while between me writing this and publishing this we may be better versed as of if/when it's happenin
g… based on previous experiences I'm not sure I want others to try and get there first with the clip idea 😉 I'll update this text once we've filmed/published the clip…
Links
Ms Aleera on
Website