The very first time I filmed with House of Sinn was before I even started this blog/diary.
The second time was something I didn't write about, because I don't diary everything. To go 3 times without writing about them, especially on such a big experience, well, that'd be a travesty.
The very first time, I did six scenes with Princess Aurora, some of which I'm quite fond of. Ezada Sinn was producing that day and decided She liked my attitude so joined two of the scenes.
The second time was a year later, with Miss Courtney. Depending on how closely you follow what I do, you will know Miss Courtney is someone I have a good relationship with : so it was pretty much a no-brainer and W/we ended up doing 5 scenes, most around anal play – a finale being a spitroast also involving Mistress Sarah.
Following a discussion earlier this year, an invitation was tendered for me to travel to Bucharest and do some filming there.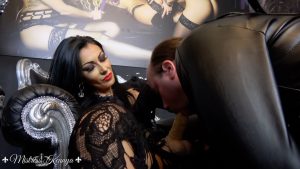 Now. To be involved as a filming slave for House of Sinn is an honour.
It doesn't matter if I'm talking in or out of role – this is one of the biggest (if not the biggest) Female Domination studios in Europe – and has involved many top Ladies – this includes some of those mentioned above and many, many more. (The Lady Yna, Mistress Evilyne, Lady Renee, Vivienne L'Amour, Lady Mephista… the list goes on.)
But to be invited to Bucharest to do more – that's a massive privilege.
My experiences have always been positive, when filming for them they have always been helpful and supportive.
I feel a very good example of how good D/s should be. Always a kind of air of control and Dominance, but a care to get the best from the sub.
So, to be collected from the airport, given loads of advice about Bucharest from where to visit to which taxis to use and generally being encouraging.
It makes a difference.
So, for example – there were times on the first day of filming I was worried I wasn't doing a good job. But, Goddess Ezada in particular was encouraging about how pleased She was and that helped me particularly in some of the later clips.
The first day is a day off and this gives opportunity to explore some of Bucharest. I've been to Bucharest before, 10 years ago, when I DJ'd there – and this time I'm with Mxtress Valleycat who has not been before and so we visit some sites I'd not been to last time (like the Botanical Gardens) also visit some favourites I had (like Cișmigiu Park).
Given I was quite nervous about filming, having a very relaxing day actually helped a lot.
So, filming day.
We are filming in StudioK which is Mistress Kennya's premises and home of Royal BDSM.
They have been collaborating with House of Sinn and there's a wonderful working relationship between the two studios.
We film 10 clips in total, 7 of which with Mistress Kennya alone and 3 which also include Mistress Lexa and Ezada Sinn.
Some of the clips are quite cold and tense. The first clip is an interview and there are some quite dramatic silences as I'm used as an Ashtray. It's actually the first time I've done Human Ashtray on film (although by the end of the weekend I have been use as such in 5 clips).
There often isn't a script which creates some tense silences as I'm wrapped around in knots at some of the questions.
Potentially the best clip of that day may be a triple spitoon and ashtray clip, of which a few pictures have already been shared.
But one other piece, is neither Mistress Kennya nor Mistress Lexa have done trampling before. I get to be a training dummy for their first time.
It's also a good example of how House of Sinn supports and helps other women. It's also a first experience for me. I've done a lot of trampling, but never in a scene with more than one other person.
Day Two
The next day of filming we clock up another 12 clips.
Firstly, 8 clips with Mistress Saida. She has a very sharp sadistic streak in Her.
She takes great delight in my screams during a chest flogging and later an intense candle wax scene.
Also, She seems to also enjoy kicking me around the room by my bollocks.
The last 4 of the day and the weekend involve Aida Ruler. She is very warm and chatty in clips but with Her own wicked tongue.
3 of the clips, Mxtress Valleycat is invited to be part of. This gives Her opportunity to do some things for the first time.
So there's a double trampling with them both – which I really struggle in, some facesitting and some tit smothering.
It's really sad, of course, that the weekend comes to an end so soon.
But a great opportunity to meet new people. Being part of a total of 22 clips is a lovely feat.
Seeing a little more of the mechanics behind The House of Sinn gives me an extra level of respect for them. Seeing how supportive they are to new people with an ultimate aim in producing high quality content.
It's no wonder they are amongst the biggest in Europe.
Clip Links
Many of the clips are already available across some of the clip stores. This list will be updated if I spot more are available.
Three Reasons Why – with Mistress Kennya (interview / humiliation / human ashtray)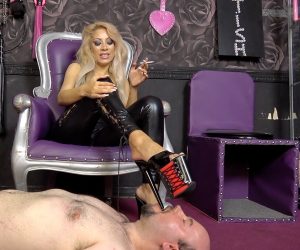 Shoe Licker Wannabe – with Mistress Kennya (shoe worship)
Mouth fucking the Virgin – with Mistress Kennya (strap on worship)
Smoke, Ash and Spit Punishment – with Mistress Kennya, Mistress Lexa & Goddess Ezada
A Trampling Fantasy Come True – with Mistress Kennya, Mistress Lexa & Goddess Ezada (Trampling)
Dangerous Nails – with Mistress Kennya, Mistress Lexa & Goddess Ezada (Scratching)
A Spoon and a Whole lot of Humiliation – with Mistress Kennya (humiliation / watersports)
Caged Boot Cleaner – with Mistress Kennya (boot worship /confinement)
A Flabby Wanker to Humiliate – with Mistress Kennya (cuckold / humiliation)
Sweaty Sock Wank – with Mistress Kennya (foot worship/JOI)
Too Ugly for more than an Ashtray – with Mistress Saida (human ashtray / humiliation)
Beg for My champagne and kaviar – with Mistress Saida (toilet humiliation)
Too Precious to touch – with Mistress Saida (ass worship)
A Romantic Candlelit Fun – with Mistress Saida (wax play)
Pink is my favourite colour – with Mistress Saida (flogging)
BBW Smother and Bounce – with Mxtress Valleycat and Miss Aida Ruler (face sitting /smothering / human ashtray)
Double Heavy Trampling – with Mxtress Valleycat and Miss Aida Ruler (trampling)
Smothered by Big Beautiful Breasts – with Mxtress Valleycat and Miss Aida Ruler (breast smothering)
Other Links
House of Sinn // Royal BDSM // Goddess Ezada Sinn //
Mistress Kennya // Mistress Lexa // Mistress Saida // Miss Aida Ruler // Mxtress Valleycat