Coming into 2021 there were different waves of optimism. I think we all kinda hoped covid would be "over" by now, but instead we're in this weird hazy "learn to live with covid" phase which involves frequent testing, careful planning and vaccinations.
Whether of course you care about testing, planning or being vaccinated might differ – but you're certainly in a world that does.
I didn't really set targets for 2021 – and, if I'm honest, I was worried more of the year would be written off than actually was.
Certainly, planning for 2022 might be a touch more optimistic.
Although, new challenges await.
THE LOWS
There's been a lot of industry challenges. While some of these I might have been less invested into if I didn't have my own store and was "just a sub" – anything which affects the industry by extension affects us anyway; because it affects people we like.
It's impossible to keep this short and do it justice – but I would be surprised if you're unaware of the carnage facing clip stores driven by new regulations from card processors.
Other lows have included the continued impact covid has had on the industry and people who I like.
Something which, from a personal perspective, has led to a few late cancellations as someone is hit either with a ping, positive test or falls ill.
THE HIGHS
Although I didn't return to filming until June – there's been plenty of highs since then.
Finally meeting Miss Jessica Hyde – who is even more wonderful than imagined.
Plus other long overdue filming with people like Goddess Cleo and Miss Diana Von Rigg.
Overdue filming and catch ups with people like Nina Hiss, Foxtress, Lady Valeska, Miss Wildfire and Tamsin Riley.
And some fabulous first times meeting people new to me including Miss Lady Louisa, Miss Annaliese and Haydies.
I also managed to do a strap on party, a foot fetish party, two SNAP events and make it to the BBB for the first time.
It certainly feels like it's been a busy year even if I've been nowhere for the first half of it.
In saying this – I managed to film 32 clips. In 2020 I managed 42 – and I was hoping to get 50 done this year – but, there's always next year.
LOOKING FORWARD TO 2022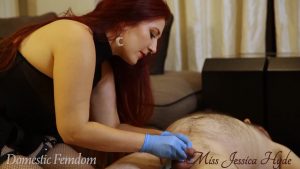 I don't really want to put solid measurables in place as any form of barometer for success or failure.
It's still of course important to make sure that I'm not sitting in a years time feeling I've gone in the wrong direction – so knowing what, or who, to prioritise is important.
One thing that has been a shame in recent years is I've done very little in terms of play with people more local to me.
And, it'd be nice to nurture relationships closer to home. There's still some folk I'd like to meet properly.
It'd also definitely be nice to be able to film more without having to trail across half the country.
In terms of clips and production, I'd like to finally launch a membership site – and also be able to increase output from one clip per week, to two.
At the moment at one-per-week I've clips until July, so to double up I'm covered until March.
So… there might be a little pressure on increasing how often I make clips if I'm to do this.
And I *Still* need to throw more gunge over people 😉
Of course.
There are plenty of folk further afield I'd like to do more with.
Some included in the "we should do something one day" where we never have – and some where there's conversations that have yet to be had.
I also have an idea for a new project, but that needs a little more thought.
We'll see.