I don't diary every filming day or private session (not that I've had a private session in a while… another story for another day) but I almost started to regret that with the pandemic and shut down.
So, the filming day I had with Georgie Girl back on March 16th didn't get a diary post (sorry!) and it's been 5 whole months without any filming.
Or seeing anyone.
Or leaving my hometown.
Fuck.
I'd put my own plans to return to filming back more than once. Either to comply with guidance or for my own concerns/safety/responsibility.
This is not to say I'm generally judgemental of those who did return sooner – everyone's circumstances are different and sometimes you have to deal with the cards in front of you to make crust.
THE BACKGROUND
I'd previously spoke to Goddexx Althea about doing some filming together. They are originally from Texas but recently moved to the North East of England – we are also both in similar boats regarding covid and wishing to be responsible.
So – just the two of us, some tripods (gave me chance to check out the video on my new S20) and keeping things sensible.
Typically, we got one of the overly warm days – and they are nightmares for filming.
Obviously the Dominant, the person the clip is around, wishes to look their best – which can be difficult when heat has you red in the face, or sweating buckets.
I mean, not that sweat bothers me… but… you know.
Throwing some ideas in the air – the angle we kind of go for plays a little into what some of the old idea for my clip store was.
So, a few years ago – I was at a gangbang. It had been organised by the ladies' partner and the idea was she would be blindfolded throughout so she had no idea who was there.
And, you know when someone seems familiar…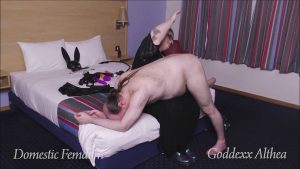 Anyway. At the end, the guys were given a choice to either leave and remain totally anonymous – so she wouldn't know who she'd banged – or could stay. I didn't mind saying, and she took off the mask with a "Oh, wow – we used to get the same bus together"
And this became an idea in my clip store – that, basically, you never know who is kinky really.
Get a bus. A train. Go to the supermarket, you have no idea about anyone else's life.
TO TODAY
To translate this to today.
We went for clips loosely connected by two work colleagues who've gone to a conference together – one spots the other staring at boots and invites back to their hotel room… although, there is a kinky surprise.
I like the angle on them. They're fun, they're playful. It doesn't have to be uber-stern strict Domination sometimes.
And, I like things to be varied.
It also gave a story of why we were in a hotel room to tie in. We didn't have to pretend a hotel was an office, or whatever.
I know many viewers can suspend disbelief, but… still…
But, I mean – the fantasy of going somewhere with a work colleague, eyeing them up – and then getting fucked with a strap on… that's got to be a fantasy for some, somewhere – right?
Aside from having an amazing day filming – and meeting new people is always a boost, especially locally! It also was my first time out my hometown since March and it was good to do something 'normal'
It was still basically somewhere I could go point-to-point from my door to the hotel and a cab back wasn't that expensive all told.
But, yep a couple of smaller and sensible filming days are definitely the way forward. For now.
LINKS
CLIPS
Office Fling – Caught Perving My Boots
More to follow