I've found over the last 12 months or so a growing number of people who've expressed interest in filming – but trying to sort it out is somewhat trickier than it should seem.
I've been plotting a few regular trips to London this year, for a mixture of music and fetish events.
So, the opportunity to go to a concert I'd wanted to see and try to arrange some filming around it seemed a good idea.
In reality, ended up with one day filming out of 3 possible days – but it was certainly a quality over quantity situation when that one day was with AMY WYNTERS.
In the beginning
I first became aware of Amy via some splosh content she was making – and that she also did foot fetish was a double win.
I'd kind of often thought of her as someone I'd like to film with but deemed unlikely; but then at the time she wasn't really doing meets and of course – things change.
I'd met her previously at Messtival – in which we had a lovely chat and I ended up at her feet under the table in the afterparty.
A real highlight indeed.
Fast forward to almost a year later – and we're doing a filming day.
Film Time
It's actually been her first in a while – but, you wouldn't think it. Any pre-nerves are gone in the first clip, when, well, never trust the maid when you're hiding science secrets.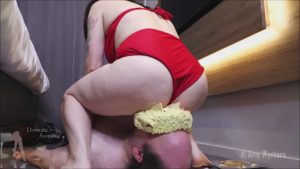 We rattle through 8 clips mixing in some humiliation, role play and lots of foot fetish content.
To say I'm happy and content is somewhat of an understatement.
Her style is very bratty-bully, with lots of manipulation and blackmail thrown in.
There's clips which have all potential to be good sellers be it the sacked employee who outsmarts the boss dismissing her; the toilet perv or cheerleading practice.
I think a clip I'm most pleased with is the big finale. It's a splosh/Femdom crossover but not in the traditional "splosh humiliation"
Nope – we crossover cakesitting and facesitting… oh, it's divine… and adding in cream was a nice albeit unexpected addition.
Amy also did some scenes with Mxtress Valleycat, one with just the two of them – but also one humiliation clip with the three of us. This has an important lesson about not to get syrup in your eyes!
I think it was also nice to keep grounded; that this was a film experience I thought impossible – and here it is. But, I manage to keep level and sensible and not break down into schoolgirl squees.
Probably for the best, she was the one doing school girl for some of the bully scenes, haha.
Watching the clips back, I'm so pleased how they've come out. Good high quality fun. Mind, I do look a bit sad in one of the scenes, so I hope the kink police don't come for us! Hahaha.
All told; another fun film day I'm so grateful to have the opportunity for.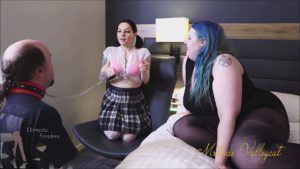 Links
Amy Wynters on Twitter
Amy on AVN
Amy's clip store
Domestic Femdom Clip Store
Clips
Cakesitting v Face Sitting
You can't sack me : I know your weakness
Step Dads Bratty Cheerleader Humiliation
Swirly Humiliation For Peeping Toilet Pervert
Our Little and Large Feet Taunt You
Humiliating my sub is more fun than detention