This is a slightly rare blog post in the sense that… I don't actually appear very much.
I spent most of the week behind a camera, often trying to keep a straight camera and straight face for a few days that were a lot of fun.
A few of you may know that 15(!) years ago I used to run a Splosh website with my ex-wife and a couple of friends.
Subsequent partners weren't really that interested – although I did once chuck a large tub of single cream over an ex in response to her "chain me up and do what you want to me".
A lot has moved on since then – although a lot has stayed the same. It's a fetish where it is perfectly safe to drink with (or at least, no more dangerous) so filming always comes with a "the longer we go the drunker we get" twist. There's always the nightmare clean ups, the worry about the bag splitting and the concern when the plughole makes strange noises.
And the laughter.
Always the laughter.
The Idea
The idea of this week formulated when Penny Banks decided a good use of time would be to travel to a few different areas of the UK and to do some collaborations with other people and be more accessible for fans for sessions who couldn't always travel so far.
Mxtress Valleycat is also in a position where she's looking and open to more collaboration – so it almost seemed a perfect storm.
Miss Abigail is relatively new to filming but of course, this makes a perfectly great opportunity to also join in and work together.
There were also sessions available – but the idea of course was to do as much filming as practical when not in session.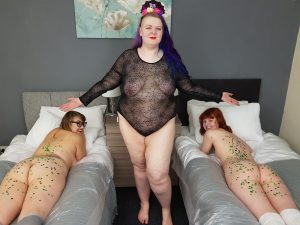 Camera – Action
Tuesday had the most free time, so was a prime opportunity for Miss Abigail to come over and join in – there were a whole variety of scenes filmed.
A little wax play as Mxtress Valleycat decorates both Penny and Abigail (clip). Followed swiftly by a horrible slopping for Abigail whilst in bondage (clip).
Some double-team bullying as Mx Valleycat and Miss Abigail initiate Penny into their gang (clip coming soon).
The filming concluded with a foot massage scene with Mx Valleycat and Miss Abigail (clip coming soon).
Whilst, in my unbiased opinion, all of the scenes are quality – the bullying in particular has something for fans of sploshing, humiliation, Domination… but hey, all of the clips are smoking.
Ongoing Fun
Throughout the week, there is more filming going on – including some spanking with a broom (clip), some trick or treat which involved an awful lot of tricks (clip) – bobbing for apples in slime (clip), horrible things with pumpkin guts (clip) and a real treat for any feeder fans (not the band) ha (clip coming soon). Ohhh – and a glue and glittering… with a bit of a spin also (clip).
I somehow manage to stay clean this time around – but – it's great for those involved to be able to get such mixed and varied content.
But of course – it was just a good example of people coming together, working together and creating – well – amazing footage.
This was also a bit of a taster for Penny of Northern cuisine – although, we never did introduce her to savaloy dips….
Definitely one for a next time!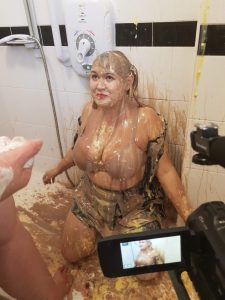 For more
Mxtress Valleycat Clip Store / Website
Penny Banks Clip Store / Website
Remember another time
Another post where I discuss filming with Mxtress Valleycat.