At it's simplest in numbers.
In 2022 I did 16 film days, doing a total of 90 clips with 20 different people.
Landmarks among the way included filming the 400th clip I'd been in.
It's been a ride, and so a little look back at each month.
January
While it seems like we've known each other forever, January was the first time I met Cate McQueen properl
y.
We did all the clips as a series entitles "Miss Cate's new Slaveboy" which followed a story that she was trying me out to see if I was suitable for her needs.
I still dunno if I passed the test 😉
Clip Highlight : Outdoor Ashtray Humiliation
It was the first time she'd used someone as an ashtray and, well, we've shared many cigarettes, on and off camera, since.
February
I joked it was cheaper and easier for me to get down to London then it was to get to Milton Keynes for this shoot, ha. But basically Devon Breeze had been hosting a 'creators weekend' with Catalia Valentine and Jasmine Brooks. So I turned up for the last day to do some fetish clips after they'd all finished fucking each other 😉
Clip Highlight : Triple Trampling Training and Torment
Which had a nice tie in that Jasmine had never done trampling before so she was shown alongside Devon and Catalia who were both more experienced.
March
A first visit to the Mad Doctor as I met Miss Bedlam for the first time.
It was three scenes that were all a continuation of each other that she stapled up my bollocks and then tormented them with other implements. Ouch.
Clip Highlight : Vibrator on the Mangina
by this point it just got through the pain and this was somewhat surreal and teasing!
April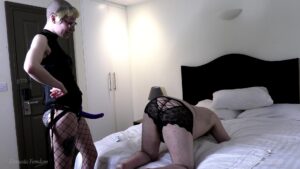 As the year ticked over, it got a bit easier to organise shoots and the next few months had a lot of filming.
In April, there was some Boss/Assistant based clips with Bettie Brickhouse – followed by some scenes the next day with Roserosebud, Foxtress and Valleycat.
I also made a trip up to Glasgow to film some Star Wars clips with Alice Mayflower and Alice Crow, which also included some scenes when I was Dominant, fucking Alice M with a lightsabre was fun
Clip Highlight : First Fuck Between Friends
It was very difficult to pick one from three shoots, but this was Rosa's first time doing pegging on camera – and the first time we had done pegging together – and she is probably one of the people I've known the longest of times.
May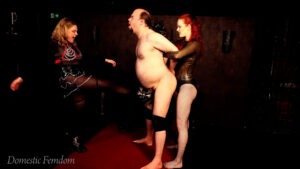 Things calmed down in May as I only did two shoots, ha, including my first visit to Murder Miles.
Things slotted together nicely as I arranged some filming the day after Messtival and had a shoot with Roxy-Fox and Araneae.
A week later I also was helping Valleycat with some photos and we did a couple of scenes, mostly showing off their new pedicure.
Clip Highlight : Busting King Pervy
We only did a few clips in Murder Miles but they were all super fun, Busting King Pervy is probably the most fun possible when being kicked in the balls, even if we did have to cut out my Prince Andrew joke.
This was deliberately released at the time of the Jubilee.
June
Back to back shoots in Facility, the first of which with Cate McQueen and Goddess Aveena became a landmark clip as it was my 400th I'd been in and became the 200th released for my store. It also became my all time best selling clip!
There was also a few school clips for good measure.
The next day was another shoot with Miss Bedlam, who was a little less mean this time – but did piss on my face during facesitting.
Clip Highlight : Eat Cum from Sweaty Disgusting Feet
The landmark clip I spoke about.
July
In July 2021 I did a shoot with Miss Wildfire one day, and then with Foxtress, Goddess Cleo and Miss Annaliese the next.
One year later, it's the same again!
Managed 8 clips in 3 hours with Miss Wildfire, four built around workout, and four that were a bit more stand alone.
Some scenes the next day included the first time I've actually been filmed on a sex swing, oh, and Foxtress brewing her socks!
Also in July was a first shoot with Domina Melody as we started a series called 'The Silent Treatment' of a couple who, well, silence was a big part of the clips!
Clip Highlight : Atomic Wedgie
Although, having your underwear hoist up and suspended from it is rather painful
August
By August I was probably in need of a break as there were no shoots.
September
Things slotted together nicely in September, especially with a cancelled train strike thanks to the Queen dying (cheers Ma'am!) and a hectic weekend with gigs, shopping and kink events also had a film day with Cate McQueen and Valleycat
A mix of school and 'Halloween Party' scenes.
Clip Highlight : Trick and Treat : Orgasm into Own Mouth
You know when it's "why not both to trick or treat" – and turns out my legs will bend over my head far enough to cum into my own face.
October
A few shoots in October got sadly cancelled, but, I did have a photo shoot with Mistress Muller 🙂 See featured image on this post.
November
Chaos was indeed in motion as train and tube strikes led to postponed events and non refundable bookings – and – well – although there were changes to the first place – another trip to Murder Miles with Valleycat, Cate McQueen and Miss Jessica Hyde worked rather well.
Didn't quite get as many scenes as hoped, but got some really good scenes.
Clip Highlight : Sex Education from the Head Mistress
I had wanted to do this at the September shoot but wasn't quite in the right frame of mind – so it was good for another chance.
December
For the sake of numbers I count this as one shoot, though it was technically 2. They were just both in the same venue on the same day.
First up was Liz Rainbow and we rocked through 5 clips in under 2 hours. Woosh. Just simple fetish clips, nothing overly clever, but she has a fun and playful style.
Then Domina Melody, she had said about doing some prison based clips if we had a dungeon, and we were in the Peacock Parlour, so there were some scenes including exercise drill and her literally pulling my pubes out!
Clip Highlight : Smothered Under the Latex Ass of Liz Rainbow
Which I maybe enjoyed being teased so much I continued despite thinking I'd lost a tooth.
I hadn't lost a tooth.
Onwards to 2023, there's shoots already planned with Goddess Cleo, Foxtress, Valleycat, Miss Jessica Hyde and Miss Bedlam.
But, I'm always looking for new ladies to shoot with. Interested? Drop me a line.