Foxtress.
Based in London, She is the London Switch Bitch.
She's involved in a whole bunch of stuff – including the DVS network and Domina Parties. She recently launched her own clip stores.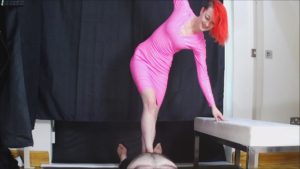 HOW DID YOU FIRST HEAR ABOUT FOXTRESS?
She is someone rare in the sense I heard about her when I met her! Which was at DVS Kink Labs.
WHAT WERE YOUR FIRST THOUGHTS OF HER AT THIS TIME?
Well, she was doing talks and introductions and so a mixed bag between "ooh, hello, she is attractive" and of course how well she came across.
HOW DID YOU FIRST MEET?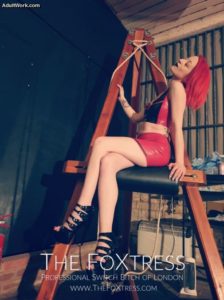 At DVS Kink Labs – our first interaction was one where she was asking to the floor if anyone consented to a hug.
WHAT WERE YOUR FIRST IMPRESSIONS OF FOXTRESS?
As above they were positive – but – I think she is slightly different in the sense it was growing impressions over time. That it became more and more that she was someone I'd like to spend time with – from some of the things she'd say on twitter and often clear boundaries.
WHAT WAS THE MOST MEMORABLE MOMENT OF YOUR FIRST MEETING?
Well, I'm actually going to say a memorable thing from the second meeting which was at a Club DVS – I was very impressed she recognised me from the first time.
The first time I was generally just a faceless random in the crowd whereas she was a host. Things favour me here. So, I remember feeling positive she'd recognised me.
WHAT DO YOU ADMIRE MOST ABOUT FOXTRESS?
She is very firm in her opinions and not afraid to voice them. I know that she is not the only person to this – but too often in this industry/lifestyle people will tell you what you can and can't say and she just, well, says it.
YOU'VE FILMED TOGETHER, WHAT WAS YOUR FAVOURITE CLIP YOU'VE DONE TOGETHER?
Ooh. The one that's on my store 'Trampled in Loubs and Latex' – it'll also be on hers soon, maybe with a different title.
But, she'd just got her first pair of Louboutin shoes and I was the first to do a clip with them. But, also the latex dress was also making it's debut – we had to keep photos and stuff off Twitter until after she'd wore it to Pedestal for it's first public outing.
It's good to have stories with things.
WHAT IS FOXTRESS LIKE IN SESSION?
She likes to play, she likes to have fun. She likes to have a laugh – and if you're laughing with her – then everyone has a great time.
WHAT IS YOUR OVERALL BEST MEMORY OF FOXTRESS?
When I was down in London another time there was some free time for socialising so we had a few drinks and snacks and it was also nice as I don't think we'd expected to see each other – so, unexpected social time.
IF YOU COULD SAY ONE THING TO HER RIGHT NOW WHAT WOULD IT BE?
Miss your face and looking forward to spending more time together soon.
As is traditional, I also get some words from Foxtress.
WHAT WERE YOUR FIRST IMPRESSIONS OF EYEMBLACKSHEEP?
Shy, quiet but sweet.
WHAT IS YOUR FAVOURITE MEMORY OF EYEMBLACKSHEEP?
Has to be the day we first filmed together and making him lick my new latex dress. For me it was a moment that I adored not only that I got to finally film a clip in latex (something i dreamed of as I'm allergic and to find that chlorinated latex didn't react was EPIC!) and have someone who was genuinely loving the task set to him!
YOU HAVE FILMED TOGETHER, WHAT IS YOUR FAVOURITE CLIP YOU HAVE DONE TOGETHER?
HAHA in true FoX style I've already answered this in the previous question.
I do have another one though! The outdoor foot clip with his beautiful partner, Mxtress Valleycat
WHAT IS EYEMBLACKSHEEP LIKE IN SESSION
We haven't sessioned as such but in filming awesome, fun , engaged and creative.
WHAT IS YOUR FAVOURITE THING ABOUT EYEMBLACKSHEEP?
His genuine kind nature!
IF YOU COULD ASK EYEMBLACKSHEEP ANY QUESTION, WHAT WOULD IT BE?
How do you handle yourself so well even when things get tough?
My answer : I don't always think I do. But, for everything I write which people see, there's so much I simply delete. Sometimes that can be a way, writing words, whether they're angry. remorseful, whatever… then just have the words in front of me and delete without saving. It's a way to get it off the chest without things spilling into public.
Links