Sometimes, for whatever reason, clips do not sell.
Even some of the most successful producers and creators have had some that did not shift (or did, but massively underperformed).
It's not a sign of failure, or that the clips were bad (because someone would have to have bought the clip to think it was bad!) but there could be many factors.
It could be the description just didn't catch anyone's imagination. That the preview just didn't garner interest.
Or it could have just been timing and, for whatever reason, enough people didn't see it at the right time.
So, I've picked out a handful of mine which have not sold on my platforms. Some of these were on some form of content share and in a lot of cases I know sold for the other person, but for whatever reason are sitting on zero sales for me.
And decided to give an extended back story on some of these and, well, and hope to get some of them off zero sales 😉
Here is 5 that I have picked for this 'Part 1'
And, hey, if this post is popular and/or gets a new lease of life/sales then maybe I'll do more parts and more stories.
Wear Chastity to Work
I'm not sure if this is the oldest clip on my site, but probably the oldest that has never sold for me. It's one I shot with my wife, Mx Valleycat.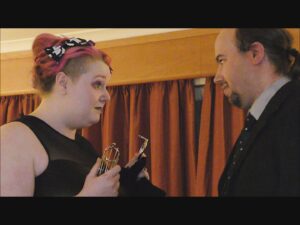 We'd bought a chastity cage and were going to try out chastity play and so had this idea for a clip around this.
It was filmed in 3 parts, the first was one where I was being stopped on my way to work and being made to put on a chastity device. The second part was simulating Valleycat sending me racy pictures to tease me.
The final part was then to tease me in chastity with the vibrator.
However, ha. It didn't quite work like that! We had a lot of problems getting the device on. In the first part I had an erection it just wouldn't go over, so we had to cut and wait for things to go down and then place it on.
So far so good, but I ended up getting erect again and the whole device popped off. So we ended up doing the third act with me just being tied to the bed and teased.
It was going to be to cum, but I didn't cum so it became a denial clip. But, well, we filmed something else immediately after (which has never gone to my store) which involved doughnuts and I exploded a little *too* quickly.
Anyway, you can view that clip here.
Office Fling – A Spanking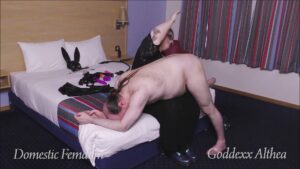 This was a really weird shoot in many ways. It was with Goddexx Althea and during a lot of the on/off lockdowns and change in restrictions.
So, I was getting a little eager to film, both for content and to see people. And they lived local enough to get together and shoot.
Now, at the time of shooting this was within the rules of the time, but we also both had our own risk profiles so we set up in a hotel.
And I now kinda hate shooting in hotels, but this one *really* looked like a hotel.
So we incorporated it into the storyline. We came up with a story of two employees being away with work and having kink based fun, so it's also a more positive femdom angle.
There's 5 parts to it, but the spanking elements never sold.
But, yeah, you can check that out here.
Summoned for Foot Worship
I mean, it's Devon! And she's topless! And she's fucking beautiful! What?
And also, I've done other foot fetish clips with Devon before and after this one and they've all shifted – so what's the story and why not this one?
So this is actually one that was shot after a lot of lockdowns again and folk getting back into filming now they could. We met up for a couple of hours and I think did 3 scenes, the other of two went really well – a sweaty punishment and an edging clip.
Now. This one at the time it was released, one of the sites was doing a foot fetish promo and so with lots of other people doing so so so much foot fetish content it probably got a little lost in the noise.
But you're really missing out because this is sizzling. It was an especially warm day!
Learning The Correct Way to Worship My Feet
Not all of the low clips are linked to lockdowns (though I started the clip site in 2019, and on what would have been our first birthday we were deep in one) but, I had this dilema on what to do about the store given I couldn't shoot and was running out of clips in my backlog.
So I contact a handful of people and came to an agreement for them to make some content for me.
It itself, this was also going to be a way to ask a question of how POVs would do for a store like mine, and there were some mixed results.
One of my best selling clips of all time (maybe I should do a post like this for some of my biggest clips?!) was from that era, but this clip in particular it is a travesty is set on zero.
So when swapping ideas with Miss Jessica Hyde (who was herself just getting into filming) the idea of a tutorial video of how she liked her feet worshipped seemed a great idea.
As well as of course a lot of close ups of her beautiful feet, lots of tips for foot fetishists in general for worshipping anyone's feet.
Cum to the Darkside
Oh God, this was so much fun to make, to produce, it just… zero sales.

I think a little bit, a bit like the Devon clip above this was released during a promo for cosplay clips.
We also released on May 4th, the same day a lot of people released their own Star Wars clips (including someone else listing this who had it on share!) and so it got lost in the noise.
Basically, Alice wanted to do a Star Wars themed content shoot and, boom, we got 3 Geeks together and made a bunch of content (some of which I haven't released because, for example, I fuck Alice with a light sabre which doesn't fit onto my Femdom theme 😉 I will release it eventually) but this was the opening clip with a lot of teasing and orgasm torment until, well, a cum for the darkside.
I think it's canon now.
You can see what you're missing here!
So, yeah, why not check those out – and of course, we've a lot of big sellers also – it's all worth a little look.